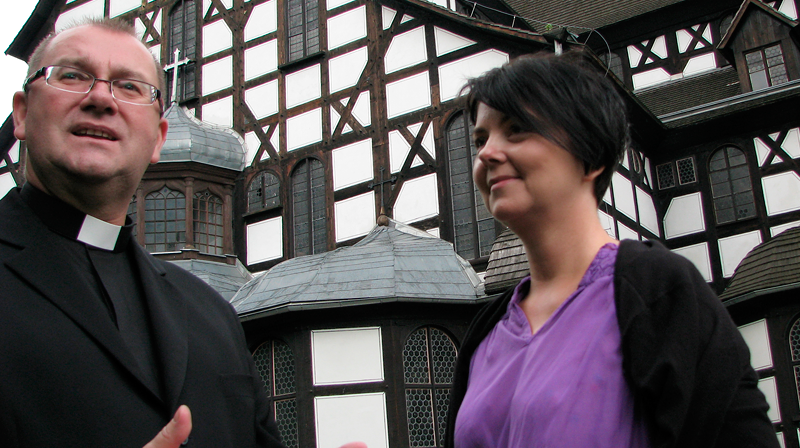 For 25 years Bożena and Waldemar Pytel have been the hosts of the Church of Peace. The renovation of the church, conducted by specialists hired from Poland and Germany, was initiated in 1990s by Rev. Waldemar Pytel.
The renovation included the installation of a new security system, replacement of the shingles on the roof of the church, renovation of the entire structure of the building, and strengthening of the walls. Additionally, the pulpit, epitaphs, entry gate and old Bell-ringer's House were restored. Measures to preserve the Church's altar and old prints were also carried out.
For its model preservation work, the parish was awarded the Golden Medal at the European Trade Fair for Conservation, Restoration and Old Building Renovation in Leipzig. The church has also been inscribed on the UNESCO's World Heritage List.
Rev. Pytel is the pastor of the local parish of the Evangelical Church of the Augsburg Confession. He has received awards from the Minister of National Education, the Town of Świdnica, the Association of Monument Conservators, the St. Brother Albert's Aid Society, and many others.
Bożena Pytel, a sociologist, is responsible for the public relations and all the cultural and educational activities relating to the Church of Peace. Thanks to her efforts, a 17th century journal of one of Świdnica's inhabitants was able to be published. A play based on the journal's contents is now being brought to the live stage by the actors of Teatr Stary in Krakow. Bożena Pytel has also created the "Dolnośląski Szlak UNESCO" ("The Lower-Silesian UNESCO Trail"), which promotes Lower-Silesian historical monuments in Poland. As well as this, she has organised photography and journalism workshops for junior high school pupils from Toruń, Zamość, and Wieliczka, plus creative writing classes (among others) for high school pupils and seniors from Świdnica. The author and organizer of the Artistic Summer in Plac Pokoju ("Peace Square"), Bożena has received a cultural award from the President of Świdnica.
Bożena and Waldemar are married and have two adult sons. Rev. Waldemar is a great football fan, both of his local team and the Polish Premier League. Bożena devotes her free time to photography and her pictures have been shown at several exhibitions.