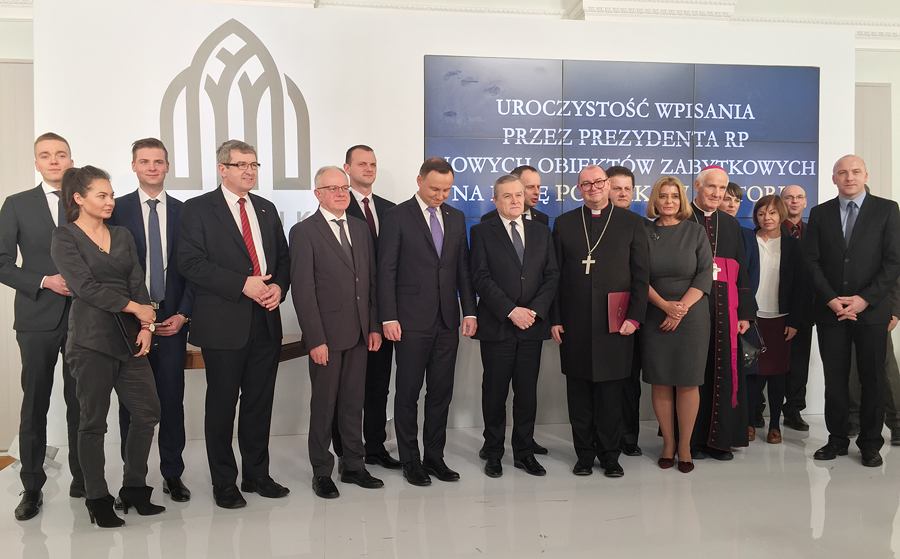 For the first time as President I have the honor of embracing the protection of valuable monuments through their establishment as "Historic Monuments". A Historic Monument is deemed as a being an architectural, cultural or artistic masterpiece. These places are not only a part of the history of our state, but also of the world because they include UNESCO-listed objects.
"I am pleased that on the 500th anniversary of the Reformation I am able to place the Churches of Peace on the list" said President Andrzej Duda.
On March 15th, in the Presidential Palace, Andrzej Duda presented documents that confirmed 10 more monuments be granted the status of 'Historic Monuments'. One of the monuments on this prestigious list is our own Church of Peace, along with its surrounding cemetery and whole ensemble. Our church has been praised for its pioneering and unique technical solutions, as well as its rich interior decor.
"Here in Świdnica we have a uniquely well-preserved and modern-day evangelical ensemble in historic Silesia – one that has survived in step with its traditions and which still serves the same purpose today. The whole ensemble provides a truly respected source of information about the life of Lutheran parishes in times when a large social group was effectively a diaspora barely tolerated by the state authorities."
The status of 'Historic Monument' is the highest distinction established by the President of the Republic of Poland via special regulation at the request of the Minister of Culture and National Heritage. There have been only 70 monuments added to the list since 1994.
Last month the following monuments were also added to this elite group: the Evangelical-Augsburg Confession Church of Peace under the invocation of the Holy Spirit from Jawor, the radio station in Gliwice, the Ozimek Suspension Bridge over the Mała Panew River, the residential-urban areas in Rydzyna, the St Stanislaus and St Wenceslaus Cathedral from Świdnica, the Benedictine monastery complex and pre-Christian stone embankments at Łysa Góra in Święty Krzyż, the Benedictine Abbey in Tyniec and the Cistercian Abbey in Wąchock.