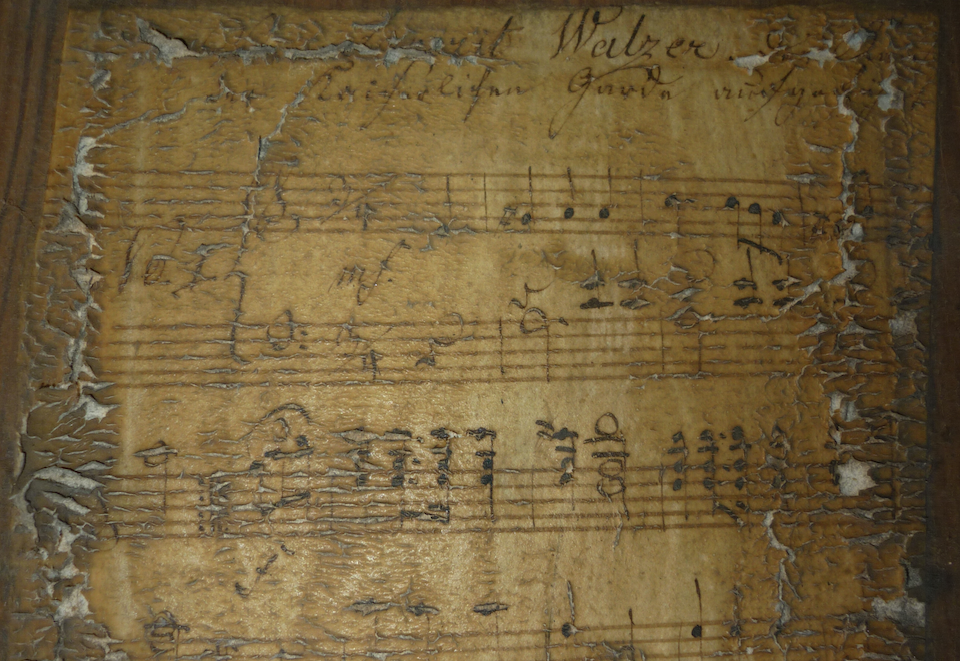 Several documents with music notation have been found by Christian Scheffler, the organ-builder involved in the renovation of the large organs in the Church of Peace. It appears that during one of the earlier renovations some pages had been put into the instrument, probably to seal air ducts.
Glue has seriously damaged the musical items, but in the headline of the document the words "Waltz" and "part for the Imperial Guard" are visible. The musical score presents the beginning of the waltz in the key of A minor, which was certainly written for large organs. 
It has been assumed that the composition is that of Carl Maria von Weber. We have no direct proof, but it can be traced from the styling – says musicologist Stephan Aderhold,(Ph.D). The song was released for the first time in print in 1812 in Leipzig under the title "Twelve favourite waltzs of Empress Marie Louise of France performed upon her arrival in Strasbourg by the Imperial Guard (from the first written record of Kuhnel in Leipzig)".
We do not know when the pieces of the waltz notation were placed into the large organs. It could have been during one of the overhauls in 1825 (coordinated by Thomas Koded) or in 1835 (coordinated by brothers Schlag) or in 1850 (coordinated by Adolph Alexander Lummert resp. Lammert) or in 1880 (coordinated by Heinrich Schlag) or in 1909 (coordinated by Schlag & sons).
 It is also uncertain whether the waltz was performed by the garrison from Świdnica. However, it may well resound in 2016 in the Church of Peace when the renovation of the large organs is to be finished.